Welcome
Harp Enterprises is a full-service election management organization. We pride ourselves on offering reliable, user-friendly, and secure voting services and equipment. We currently service Government elections in Kentucky, Tennessee, Arkansas and Indiana. We also provide support and service to various organizations throughout the United States. To learn more about Harp Enterprises click Read More .
SUPPORTED ELECTION PRODUCTS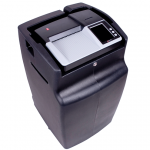 Precinct-Based Digital Scanner
The eScan is a precinct-based digital scanner that quickly scans voters' paper ballots. If ballots have contests that are marked incorrectly, the eScan displays instruction messages so that voters have an opportunity to correct mismarks before casting the ballot.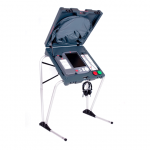 Accessible Electronic Voting
Voters with visual impairments, blindness, or literacy challenges may use the eSlate's integrated audio ballot reader to navigate through the ballot. The eSlate can also be used by voters with severe mobility impairments. With the eSlate, all voters can vote independently and privately. The eSlate's accessibility features have been judged superior in independent product reviews by leading disability organizations.