Our Available Election Products
---
Harp Enterprises has partnered with Hart Intercivic to bring customers a full line of election products and services. Here at Harp Enterprises we realize not every customer's demands are the same. That's why we offer a paper ballot voting system as well as an electronic voting system.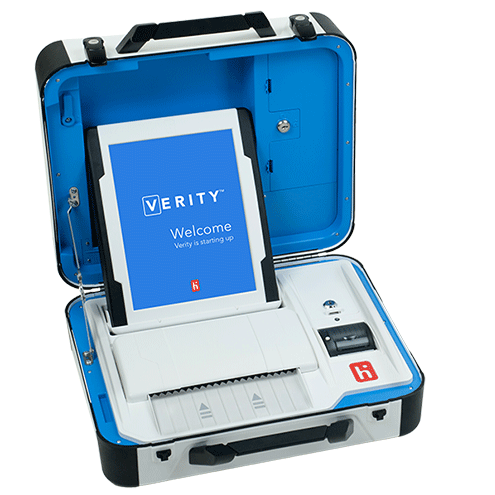 Verity Scan
Exceptionally easy and accurate scanned vote capture
Verity Scan is the most intuitive, easy-to-use interface available today, inspired by EAC/AIGA's Design for Democracy.
Fast ballot scanning, with easy second-chance voting
Patented, animated arrows show the voter exactly when and where to insert the ballot, and Verity Scan reads both sides of the ballot in seconds. Easy-to-understand, plain language notices alert voters to possible errors, giving them a second chance to make any corrections.
Easy for poll workers
Verity is contained in a compact, integrated case – easy to transport in ordinary vehicles. Step-by-step onscreen instructions make startup and shutdown quick and easy. And Verity Scan's easy-to-use interface means that voters need less help from poll workers.
Efficient and easy for election managers
Verity Scan ensures reliable audits of voter intent and enables fast recounts, with digital capture of full images of scanned ballots. Voting data and audit logs are stored in redundant, physically separate location, providing assurance that data is safe. Verity Scan's built-in thermal printer provides ballot count totals, and enables immediate resolution of write-ins at the polling place.
Verity Touch
Modern Electronic Voting
Verity Touch is a modern, compact, and intuitive touchscreen DRE that represents the next generation of electronic voting. Like all Verity voting devices, Touch has the most usable voting interface available today, inspired by EAC/AIGA's "Design for Democracy" templates. This beautiful design feels natural to use and offers a superior interface that provides clarity and confidence for voters, with reduced residual votes.
Modern, usable voter interface
Verity Touch's interface, based on EAC/AIGA "Design for Democracy" templates, is modern, fresh, and intuitive. The 12" touchscreen interface offers clarity and confidence for voters, with fewer keystrokes, higher voter satisfaction, and reduced residual votes.
Options for accessibility
Verity Access component adds tactile buttons, audio ballots, and compatibility with common adaptive devices.
Easy to deploy
Verity Touch includes a compact, integrated case for secure storage, transport, and setup, and its booth is lightweight, low profile, and easy to assemble.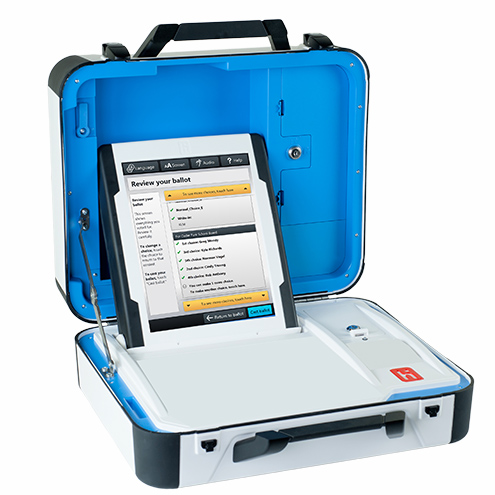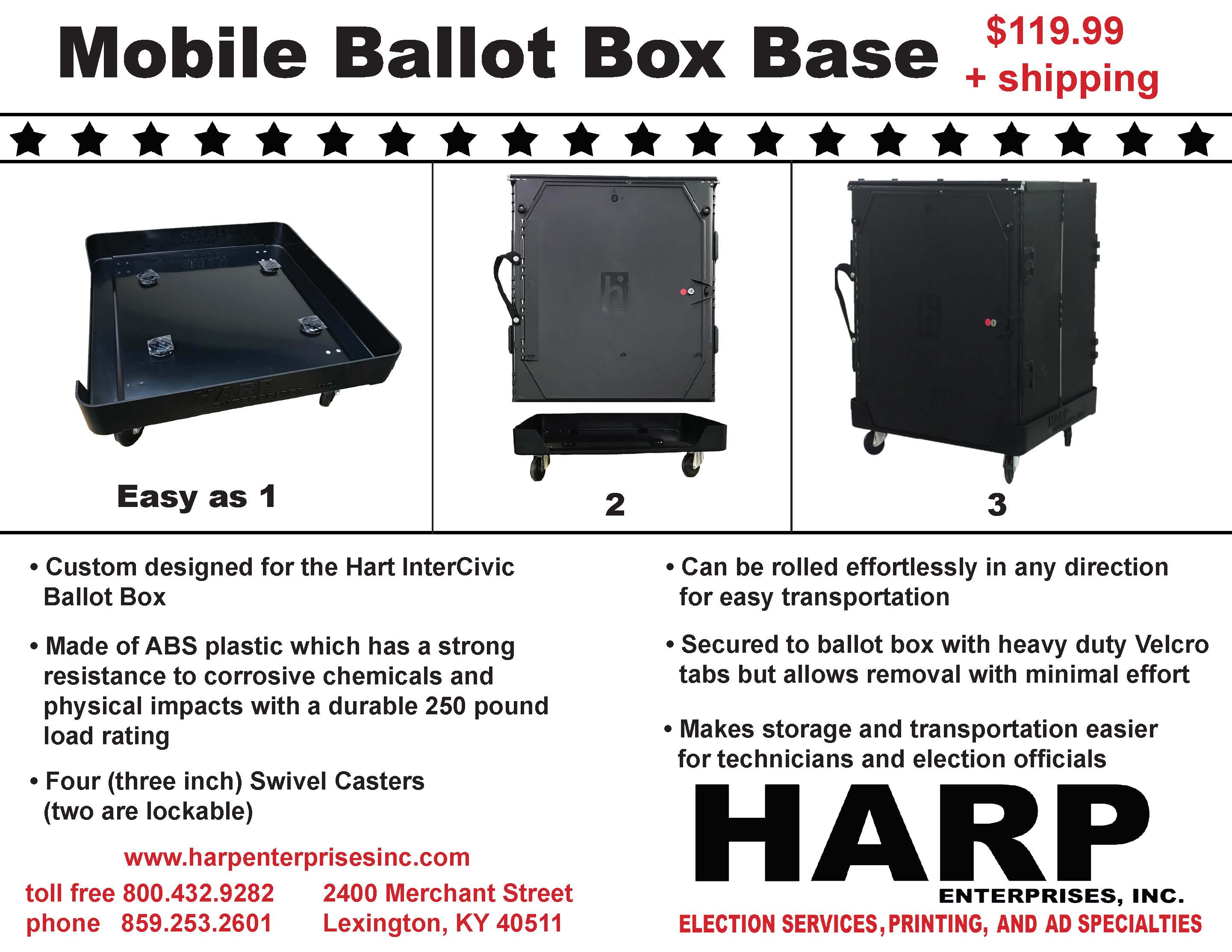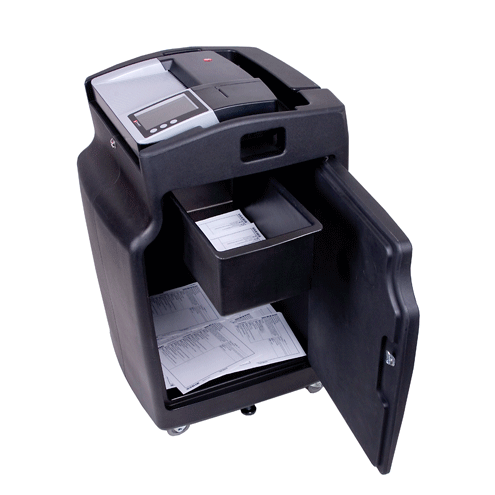 eScan
Precinct-Based Digital Scanner
The eScan is a precinct-based digital scanner that quickly scans voters' paper ballots. If ballots have contests that are marked incorrectly, the eScan displays instruction messages so that voters have an opportunity to correct mismarks before casting the ballot.
Secure
Prevents duplicate ballot scanning
Adaptable
Allows for multiple ballot sizes
Efficient
Digitally capture write-ins
eSlate
The Most Accurate DRE
The eSlate is a DRE voting device providing all voters with the means to cast their votes with privacy and independence.  A paper audit trail is created when the eSlate is coupled with our Verifiable Ballot Option.
Secure
No smart cards or programmable devices required
Accessible
Complies with HAVA
Durable
No calibration required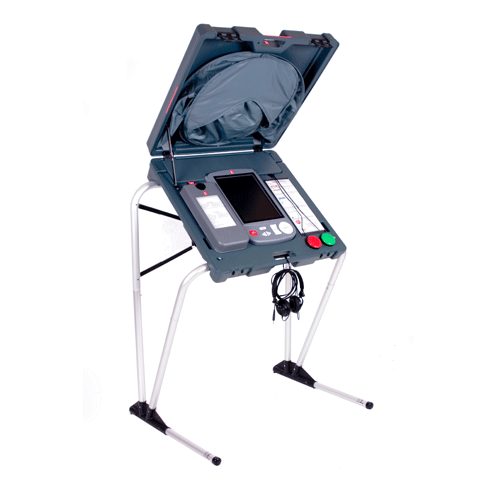 Interested?
Give us a call today! (800) 432-9282
Contact Us
Harp Enterprises, Inc.
2400 Merchant St.
Lexington, KY 40511
PHONE/FAX
Toll Free: (800) 432-9282
Local: (859) 253-2601
Fax: (859) 233-9457
Harp Enterprises is an election services company founded in 1972 by R.J. Harp and a group of investors. The company has built a reputation of turnkey election products in Kentucky, Tennessee, Indiana and Arkansas. <Read More>